Art Studio 5005
offers studio art classes and workshops in NJ/NYC/CT area for children, teens & adults of all levels, taught by Elena Kruchkova,  Boris Kuznetsov Sasha and Dasha Kuznetsov-experienced art educators who are also professional artists.
Some general info:
Every person is potentially talented. Our goal is to find that talent in a child and nourish it.
We help children to unfold, find trust in their artistic abilities, make a friendship with pencil and a brush, to become familiar with different medias and techniques…In other words to become confident in art.
We also think art helps children to grow, makes them well balanced and happy.
Not only is it a pleasure to create, but also it helps to
build one's future life in any carrier. We are very happy with our teacher's experience. It's amazing to see, how often, we get children, who have to start from scratch and in a few classes they are focused and joyful young artists, who know what they're doing!
Their artistic abilities get stronger with every class as well as their coordination (fine motor skills), perseverance, and concentration. The fact that they can create a piece of art on their own and share it with others makes them veryhappy!
*****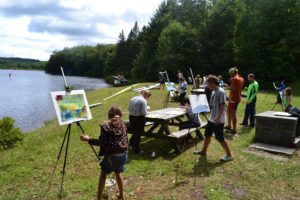 -What we do in classes:
Our usual semester is made up of different classes with painting, drawing and sculpting as the base core. It's mostly figure drawing, still lives and landscapes, balancing the colors and shapes. Following, we always have some applied art, like prints, silk painting, work with ink, charcoal, pastel. We study styles, artists and the art history. We do modeling, study design, work with color and composition. We avoid copying or step by step painting, we want our students to work independently and feel art from the inside. The exception is only a once a semester class of the old master copying. Mostly, we give out a specific assignment and see how children can unfold and create, being helpful with making suggestions on improvements while children are creating.
We work in a friendly, comfortable atmosphere, building trust and joy. We are always positioning ourselves as friends, who are more art experienced, but not as an art authority.
In the Blog you can find our schedules and locations as well as find our students recent art works / video presentations.
To sign up for a class please call us
@ 914-772-6919
Or email: