2019-2020
Working with the right side of the brain, developing creativity, imagination, fine motor skills, non-verbal visualization, helping children express feelings through art.
Fall semester will be based more on Art History, with every class related to a specific style during 1300-1850 ad. Will be checking on great masters from Middle age, Gothic, Renaissance and Baroque with lots of instructions on proportions and technique.
In the winter – spring of 2020 we will continue on style study starting from 1850s going to XXI century.
Program fall 2019:
Middle Age Stained glass techniques imitation
Early Renaissance . Painting with egg tempera. mixing/preparation
High Renaissance. Durer and Leonardo. Studying the old Masters drawings
Dutch and Flemish baroque still life. Oil painting technique
Classical style. Study perspective. Interiors and cityscapes

Neoclassicism. Bas-relief sculpting. Greek motives in Ar

t                 

some subjects require 2-3 classes
program subject to slight changes.
Calendar: September 10th- Dec 19th ( No class on Nov 28th-

Thanksgiving)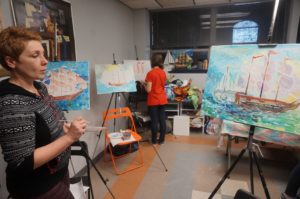 Program Winter 2020:
Impressionism. Landscape, Acrylic/Canvas

Pointillism. Watercolor

Symbolism. Allegory in Art. Charcoal/soft pastel

Cubism. Mixed-media Collage

Art Nouveau/ Neo- Romantic style. Mir Iskusstva (Мир Искусства) . Stage costume design.
some subjects require 2-3 classes
program subject to slight changes.
Calendar: Jan

 7th to March 31st
Program Spring 2020:
It will be based on Modern Art from beg. of XX century.
Abstract Art,  Matisse and Fauvism, Surrealism, Constructivism, Raw Art or Found Object Art – this program is still in a process of making.
Calendar: April 1st- June 23rd (No classes April 6th- 9th)
Schedule in Manhattan,  Fair lawn, Livingston, Wayne
https://artstudio5005.com/schedule/fair-lawn/
https://artstudio5005.com/schedule/livingston/
*****