Fall 2019
Working with the right side of the brain, developing creativity, imagination, fine motor skills, non-verbal visualization, helping children express feelings through art.
This semester will be based more on Art History, with every class related to a specific style during 1300-1850 ad. Will be checking on great masters from Middle age, Gothic, Renaissance and Baroque with lots of instructions on proportions and technique.
In the winter of 2020 we will continue on style study starting from 1850s till 2000.
Program fall 2019:
Middle Age Stained glass techniques imitation

Early Renaissance . Painting with egg tempera. mixing/preparation

High Renaissance. Durer and Leonardo. Studying the old Masters drawings

Dutch and Flemish baroque still life. Oil painting technique

Classical style. Study perspective. Interiors and cityscapes

Neoclassicism. Bas-relief sculpting. Greek motives in Ar

t

some subjects require 2-3 classes
program subject to slight changes.
Calendar: September 10th- Dec 19th ( No class on Nov 28th-

 Thanksgiving)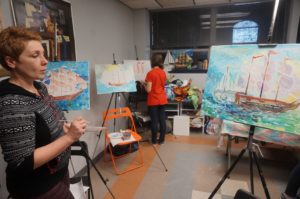 Schedule in Manhattan,  Fair lawn, Livingston, Wayne
*****
Summer Camp :