Spring -Summer 2019
Working with the right side of the brain, developing creativity, imagination, fine motor skills, non-verbal visualization, helping children express feelings through art.
This semester will be more academic, with more direct instruction on proportions and technique.
Studying decorative folk art painting technique/ gouache

2D sculpture / large format 

Academic still life drawing/ pencil/charcoal. Shapes, shading, proportions

Painting in liquid watercolor

Working with fabric using stamping and stencils

Design with professional markers
Some subjects request 2- 3 classes.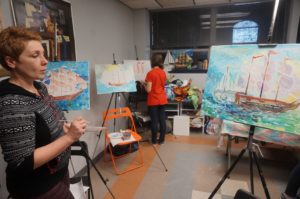 Schedule in Manhattan,  Fair lawn, Livingston, Wayne
Summer Camp :